Message from the CEO

​


At the direction of the Minister for Health and Wellbeing, Steven Wade, Country SA Local Health Network has commenced an activity to prepare a comprehensive health workforce plan for country SA.

The project and the meetings are to be Chaired by Dr Hendrika Meyer and the consultation group that will be meeting, includes senior representatives from Country Health SA (CHSA) nursing, allied health and acute services as well as representatives of the Universities, GPex, Royal Australian College of General Practitioners (RACGP), Rural Doctors' Association of South Australia (RDASA), Australian College of Rural and Remote Medicine (ACRRM), Rural Doctors Workforce Agency (RDWA) and Country SA PHN (CSAPHN).

Read more...
Mental Health Week activities

​

Country SA PHN's Yorke and North team were pleased to support seven local organisations throughout Mental Health week through a small grant initiative. Across the region there were events ranging from community morning tea's, yoga relaxation sessions and health workforce wellbeing breakfasts. 

Eudunda Area School used their grant to host Encounter Youth who delivered a Drug and Alcohol Education program to year 7-12 students, parents and community members. The tailored seminars covered a wide range of topics including identity, resilience and decision-making, drug and alcohol laws and harm minimisation strategies.

Adam Stribley, Eudunda Area School Health and Physical Education Coordinator organised the education and advised, "during these sessions students learned valuable knowledge, understanding and coping strategies aimed at enabling them to make good decisions under pressure and to effectively manage their own and others mental health and well-being."
Country SA PHN and GPEx Rural Professional Development - an effective partnership that delivers

Creative and effective partnerships that actually deliver are the aspiration of many collaborative projects, but often don't quite hit the mark.  What is it that actually ensures success in a partnership and why has this particular one been so successful?

Early in 2017 GPEx partnered with Country SA PHN to deliver needs-based, regionally relevant professional development program, GP Extend, across rural South Australia. This service to our rural regions has been made possible by funding from Country SA PHN. Read more...
Chronic Pain Pathways – Coming soon for consultation – Register your interest today!

Dr Simon Lockwood (GP Clinical Editor - HealthPathways SA) recently caught up with members of the HealthPathways SA team to progress work on clinical and service referral pathways...and having a few laughs along the way. Usually working virtually with the team from his practice in Roxby Downs, it was great having Simon onsite at a Country SA PHN office for a morning to progress getting the Chronic Pain pathways ready for wider consultation. 

HealthPathways is like a one stop shop for all the information you need including assessment, diagnostic criteria, clinical management, referral information for services and relevant patient resources. 

Consultation is a key part of the HealthPathways process where South Australian GPs, practice nurses, health professionals and service providers are invited to consult on draft clinical and service referral pathways prior to publication. 
Check out all upcoming consultations and register your interest in being involved for any of the pathways today! Go to
HealthPathways SA Project Site
.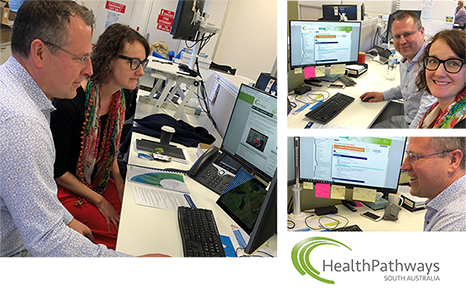 Dr Simon Lockwood (GP Clinical Editor - HealthPathways SA) and Litza Myers (Clinical Coordinator – HealthPathways SA) 
Do you use health apps for chronic disease or acute illness?

 

We want to hear from you! Researchers from Macquarie University are keen to hear about your experience as part of a study to improve the safety of health apps. 

All you need to do is fill in this 10-min survey to enter the draw for one of 10 double movie tickets:

https://bit.ly/2Lob5f3

.
Butterfly Foundation




The Butterfly Foundation represents all people affected by eating disorders and negative body image including those experiencing the illness, their family and their friends.


The Butterfly Foundation's National Helpline ED HOPE is Australia's national support service for eating disorders and body image issues. Our specialist counsellors offer free information, screened referrals and brief counselling. For more information go to 
Beyond Blue has launched the second phase of its national anxiety campaign, Know When Anxiety is Talking.

The campaign aims to promote a better understanding of anxiety as a common mental health condition, as well as challenge common misconceptions surrounding these conditions. It highlights early recognition of the symptoms, and encourages people to take action to manage their anxiety.

 

For more information go to 
How does End of Life law apply to your practice?

Are you a health professional or aged care worker? Do you know how end of life law applies to your practice?

For practical information about end of life law in aged care, visit the

ELDAC Legal toolkit

or call the ELDAC Helpline on 1800 870 155 for more information.
Take Heart Project




Take Heart is a social impact project designed to make preventable Rheumatic Heart Disease (RHD) a priority issue on the agendas of the most at-risk communities, health workers on the ground, politicians funding public health campaigns, the media and civil society generally. 

 

We are currently working in close collaboration with Australian Aboriginal and Torres Strait Islander communities, health workers, teachers, philanthropists and organisations to support our campaign that urgently implores the governments of Australia to take action now to prevent Rheumatic Heart Disease.

Read more...
APNA Transition to Practice Program (TPP)




The 12-month program will support the transitioning nurse through tailored CPD, mentorship and support in primary health care settings such as (but not limited to) general practice, Aboriginal and/or Torres Strait Islander health care and community health. 

 

Applications are now open and will close on Monday 3 December 2018. 

 
Building Nurse Capacity (BNC)




The Building Nurse Capacity Project will focus on the development of nurse-led (team-based) models of care that meet local population health needs, and contribute to building the capacity of the healthcare team. Grant funding and APNA support will be provided to successful applicants.  

 

Applications are now open and will close on Monday 3 December 2018. 

 
Let's plan 2019 Workshop!

General practice managers and nurses from Country SA are invited to attend the upcoming Practice Manager workshop, Let's Plan 2019! This is an opportunity to network with other practice managers and

nurses 

and help shape the AMPHEaT training program for 2019 to match your learning needs. Tuesday 13 November 2018 12.00pm to 3.00pm, Level 1, 313 Payneham Rd, Royston Park.

 

Country SA general practice nurses are invited to attend Free support by Country SA PHN.

Register Here
Chronic Disease Management and Healthy Ageing Workshops - Nurses Survey

 

APNA are asking nurses what they have, what they need and what they want from chronic disease management and healthy ageing CPD. The feedback you provide will be an important tool in assisting APNA to fulfil the education and training needs and expectations of the primary health care nursing workforce.



Ultrasound Soft Markers of Aneuploidy Revised PPG


This PPG has recently been updated. It will support the Fetal Anomaly Screening PPG currently in development with the following changes included:

Table with likelihood ratios for recalculating the risk of Trisomy 21 (T21) based on their First Trimester Screen result or age-related risk
Table with specific recommended testing, counselling and referral guidance
Broader discussion of each soft marker
Link to online algorithm for recalculating risk of T21 in presence of multiple soft markers.
Do your patients require basic information about healthy lifestyles?

 

Cranbourne-based GP, Dr Roger Smith, has written an entertaining easy to read book on personal health. It provides essential simple information for the average person who is looking to improve their health. 'Take a Simple Drive to a Healthier Life' is available FREE for you or your patients via the iBooks app on Apple devices.

Hard copies are also available directly from the author if you require copies contact Dr Roger Smith for more information via

roger3806@gmail.com

or by calling 03 5991 1222 during business hours.
Minlaton Medical Centre
Are currently looking for another GP to join their busy practice in Minlaton on the beautiful Yorke Peninsula about 200kms from Adelaide CBD.

The practice is one of 5 practices which are owned by Adelaide Unicare which is a controlled entity of the University of Adelaide. The practice currently comprises 3 GPs who are well supported by our highly motivated team of practice nurses and administrative staff.
If you would like to know more please phone the Practice Manager, Heather Joraslafsky, on 08 8853 2001 or go to the 
website
.
| | | |
| --- | --- | --- |
| Education Guide - Medicare billing for immunisation is a quick reference guide to support immunisation providers with Medicare billing for immunisations.  The guide is available to view on the Department of Human Services website. | | |
| | | |
| --- | --- | --- |
| | | The Blood Service Mobile Blood Donor Centre will be in Murray Bridge on 19 November to 22 November 2018; Port Lincoln on 26 November to 29 November 2018; Strathalbyn on 28 November to 29 November; Bordertown on 26 November to 27 November 2018. |
Mental Health

Professional Development 

- Port Lincoln

Monday 5 November 2018, Times TBA

Managing Complex Pain and Enhancing Treatment Outcomes - Port Lincoln

Saturday 3 November 2018, 8.30am - 4.30pm

Register Here
Aged Care Provider Forum - Port Broughton

Tuesday 20 November 2018, 10.00am - 1.00pm

Mental Health Professional Development - Clare

Friday 8 February 2019, Time and Venue TBA
Too Hot To Touch Management of Burns in rural regions - Kangaroo Island

Tuesday 13 November 2018, 6.00pm - 9.00pm

Cardiology Professional Development - Angaston

Thursday 13 December 2018, Times TBA
Male Lower Urinary Tract Symptoms (LUTS) & the Prostate - Hahndorf

Wednesday 21 November 2018, 6.30pm - 9.00pm

 
Dermatology Update - Berri

Friday 16 November 2018, Times TBA

Interactive session tailored to rural practice and includes an update on medico-legal compliance in melanoma diagnosis. 

Register Here

Managing Complex Pain and Enhancing Treatment Outcomes - Mount Gambier

Saturday 17 November 2018, 8.30am - 4.30pm
Recreational Drugs "Patient Harm Reduction Management" - Berri

Tuesday 4 December 2018, 6.30pm - 9.00pm

Aged Care Provider Forum - Renmark
Tuesday 11 December 2018, 10.00am - 1.00pm
Register Here
Updates in Primary Health Care Workshop - Adelaide

Friday 2 November to Saturday 3 November 2018, 9.00am - 5.00pm 

Register Here

Advanced Skills in Cognitive Rehabilitation - Adelaide

Wednesday 5 December 2018, 8.30am - 4.30pm
ACRRM Rural Emergency Skills Training (REST) - Royston Park

Mock KFP Exam - North Adelaide

Saturday 8 December 2018, 8.30am - 5.30pm
Understanding Neuroplasticity: From Knowing to Doing - Adelaide

Thursday 29 November to Friday 30 November 2018, 8.30am - 4.00pm 

Regster Here

Clinical Education Forum: Update on Sexually Transmitted - Woodville

Tuesday 27 November 2018, 6.00pm - 8.30pm
KFP Accelerated Program

Five-week webinar series begins Wednesday 7 November 2018 7:30pm - 9.00pm (ACDT)

NCIRS Webinar / Seminar series: AIR and Handbook Update
Osteoarthritis Summit 2018 - Canberra

Tuesday 27 November 2018, 8.30am - 5.00pm, Hotel Realm Canberra

Global Adolescent & Young Adult Cancer Congress - Sydney

Tuesday 4 December to Thursday 6 December 2018, 8.30am - 5.00pm 

Register Here
Beckwith Park, 30 Tanunda Road, Nuriootpa SA 5355

PO Box 868, Nuriootpa SA 5355

T  08 8565 8900    F  08 8311 1723

SA Rural Health Network trading as Country SA PHN.
Country SA PHN gratefully acknowledge the financial and other
support from the Australian Government Department of Health.