Message from the CEO

​

The Aged Care Royal Commission continues to highlight neglect of older Australians. As part of the Royal Commission's Interim Report federal and state health ministers have made medicine safety a national priority.


This is a welcome focus for many, including Country SA PHN and the Pharmaceutical Society of Australia (PSA). The PSA shone a spotlight on the problem in their January 2019 report Medicine Safety: Take Care. It showed 98% of aged care residents have at least one medication-related problem and over half are exposed to at least one potentially inappropriate medicine.
To reduce harm caused by the overuse of sedatives, psychotropic medicines, opioids and antibiotics in residential aged care the PSA stated that it strongly believes "pharmacists must have a greater role in the residential aged care sector to utilise their unique medicine expertise to ensure the safe and optimal use of medicines for older Australians."

As a PHN we recognised this and worked with the PSA to develop and fund the Pharmacists in Residential Aged Care Facilities Program – aiming to reduce harm and significantly improve the quality of life for those in residential aged care in rural South Australia. 

The program embeds pharmacists in country South Australian residential aged care facilities enabling non-dispensing pharmacists to collaborate with the facility residents and consulting GPs to contribute to the quality use of medicines. Core activities including medication review ensures residents are not being inaccurately or over prescribed, reduces medication misadventure and avoidable hospitalisation and ultimately improves aged care resident's safety and quality of life. 

Strathalbyn & District Aged Care Facility is one of the residential aged care facilities already operational with pharmacist Stacey Putland now working in the program with the facility's residents.

The Pharmacists in Residential Aged Care Facilities Program complements the existing activity of the Pharmacists in General Practice project that Country SA PHN and the PSA have been working together on since 2018-19.

The program is a great example of collaboration and demonstrates that we at Country SA PHN are once again 'ahead of the game' when it comes to recognising the health concerns of rural South Australians and designing practical solutions to improve their health outcomes and overall quality of life.

If you are a pharmacist or work in a residential aged care facility who would like more information or to become involved in the Residential Aged Care Facilities Program, please contact Helen Stone
helen.stone@psa.org.au
or (08) 8272 1211 or download an expression of interest form
here
. 
Country SA Services Directory

 

The regional services directories are designed to be easily accessible platforms of current community provider information about health and support services – helping people find the right service, at the right place, at the right time to meet their needs. They align local services with six domains to respond to people's health and wellbeing. It is a critical tool linking community with health and wellbeing providers and is a valuable resource to assist service providers in the facilitation of partnerships, to conduct cross referrals and assist in service.
Health Care Homes National Forum

Health Care Homes are on the forefront of practice transformation. Two day national forum was held in Melbourne with participating Health Care Home practices across Australia in attendance. The forum gave the practices the opportunity to showcase and share how they have been transforming to a more patient centred care model. Country SA PHN have 10 practices involved in the trial with several of our practices presenting at the forum. 
Country SA PHN 2018-2019 Annual Report
Country SA PHN Annual Report is now available to download from the website, go to 
Cognitive Impairment and Dementia Pathway available on HealthPathways


Dr Chris Moy, GP Clinical Editor
HealthPathways
South Australia, has developed a Cognitive Impairment and Dementia Pathway with the support of specialist practitioners in the area.  "Almost 10% of Australians over 65 have dementia, and it often has distressing impacts on both the individual and those that they love. GPs will often see these individuals as the condition develops or be the ones that families turn to as they observe increasing cognitive impairment.

The pathway is now available to assist GPs in the timely assessment and diagnosis of dementia and differentiation from conditions which may present in a similar way or which are reversible" (Dr Moy).
The pathway also provides GPs and other health professionals, management steps and support for the individual and their family including information about referral to appropriate services.
Find out more about HealthPathways or to register for a login:
Register Here
| | | |
| --- | --- | --- |
| | | Dr Chris Moy, GP Clinical Editor HealthPathways South Australia |
2019 Heart Foundation Health Professional Ambassador Program  
Friday 15 November was the final workshop for the 2019 Heart Foundation Health Professional Ambassador Program participants.
(Country SA PHN scholarship recipients are pictured below) 
At this workshop the ambassadors presented their workplace projects.  It was inspiring to hear how each participant had affected change through their project resulting in increased awareness and activity related to cardiovascular health. 
"This scholarship has proven to me that I am able to create change for the better in my own little GP clinic. I work with a great team who are positive, co-operative and encouraging and I'm looking forward to what my next project might be – the sky's the limit!" said 
one of the Country SA PHN scholarship recipients. 
Words used by the participants to describe their experience of the program included; insightful, encouraging, motivating, valuable, empowering, educational, enriching and community. 
When asked what advice ambassadors would give health professionals considering undertaking the program in 2020; take baby steps, have realistic expectations, stay well, Keep It Simple Sweetheart (KISS) and go for the food!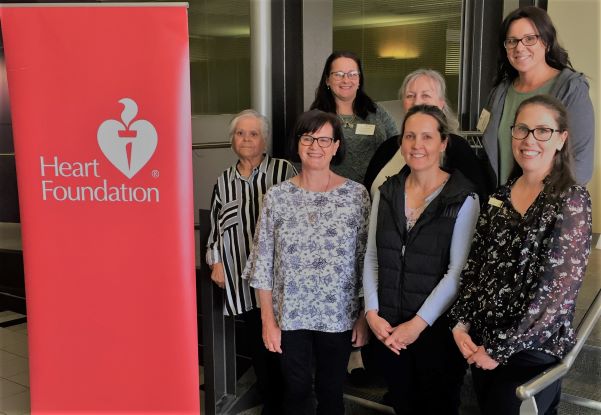 Pictured: (L to R) Back row: Chantelle, Doctors at Westlands & Playford, Whyalla; Ann, Murray Bridge Day Night Surgery, Murray Bridge; Belinda, Kadina Medical Associates, Kadina; 
Front row: Gladys, Pika Wiya Health Service Aboriginal Corporation;  Sabine Drilling, Heart Foundation Health Professional Ambassador Program Coordinator; Sandy-Lee, Mill House Medical Centre, Middleton; Vanessa Poulsen, Heart Care Manager, Heart Foundation. 
Not pictured: Louise, Bridge Clinic, Murray Bridge
Practice Support Update - Quality Improvement in General Practice

The Practice Support team will be supporting general practices with the ongoing use of the PenCS CAT 4 software suite provided to practices by Country SA PHN (CSAPHN). The extended range of data management tools by PenCS include programs that work together to allow a unique interface, with a multifaceted view of a practice's health data. 

What are the benefits to your practice? Immediate potential benefits of using the PenCS Cat 4 software suite in your practice may include:
Enhanced data quality and safety;
Efficient management of your patient population;
Effective identification and monitoring of high-risk patients or specific target groups;
Demonstration of improved patient outcomes;
Encouragement for pro-active health care and preventive and early intervention activities;
Assistance in meeting accreditation standards and practice incentive payment (PIP) requirements such as the eHealth PIP and the new PIP QI Incentive which commenced on 1 August 2019;
Better quality practice data i.e. completeness of practice's clinical data will be improved;
Easy identification of previously unseen gaps and opportunities for improvement; and
Ability to monitor and track change over time demonstrating systematic quality improvement initiatives within your practice.
Data quality tools may be most effective when used within a systematic quality improvement approach, working as an adjunct to the clinical software from which they create clinical extracts for in-practice analysis. 

A current resource available to your practice is the Practice Health Profile (PHP) which is prepared for practices that are currently submitting their de-identified data to CSAPHN. The PHP allows analysis of your data and can assist with identifying areas for improvement in line with the PIP QI Incentive, leading to better patient outcomes and meeting accreditation requirements.
If you would like one of the Practice Support team members to organise a site visit or remote session please email
practice.support@countrysaphn.com.au
to organise a suitable time. 
Practice Support Team Offers Tailored Training Sessions

The Practice Support team is conducting tailored training sessions covering the use of all the Pencs Suite of products, analysis of practice data, and implementing the Model for Improvement using the Plan Do Study Act cycles. 
 
If you would like one of the Practice Support team members to organise a site visit or remote session please email practice.support@countrysaphn.com.au to organise a suitable time.  Our training sessions can be tailored for your administration staff, practice nurses and general practitioners.
Seeking Facilitators for a Nationally Accredited Immunisation Course

Are you a primary health care Nurse who is active in immunisation delivery (working part time) looking for a challenge to support/enhance your current role? 
​
Country SA PHN and 

Adelaide PHN

are working with The Benchmarque Group to deliver accredited immunisation courses to upskill vaccine providers in communicating immunisation information in primary healthcare, planning and performing vaccination, coordinating immunisation catch-up programs and supporting vaccine management in primary care. 
The immunisation sessions will be delivered to small groups (up to 16 participants) and held across South Australia.
Country SA PHN and 
Adelaide PHN
invite eligible applicants to register their interest in facilitating immunisation courses for vaccine providers and general practice staff
please click here
.
Free accredited youth mental health online training for GPs
Country SA PHN has collaborated with headspace to promote headspace's existing free, online training for GPs. The aim of the training is to assist GPs to gain the tools to enhance positive youth engagement, by understanding how to support young people with mental health concerns.
The three modules of youth mental health training were developed by headspace in collaboration with RACGP and Think GP. It was designed with significant contribution from subject matter experts, GPs, young people and their families to address every day mental health challenges that GPs regularly see in their practice.
It's ideal for GPs working with young people, looking to upskill their knowledge, or who have a special interest in this area. These modules also address specific considerations for treating young people who identify as coming from Aboriginal or Torres Strait Islander, culturally and linguistically diverse backgrounds or as LGBTIQ+.
Mount Barker Medical Clinic's Concierge

Creating a positive patient experience is very important to the team at Mount Barker Medical Clinic, so when the clinic relocated in July 2018 to a new purpose-built facility at Victoria Crescent in Mount Barker, the focus was on creating a space that was fresh and welcoming.

The relocation also provided the opportunity to review the patient experience upon arrival. Taking inspiration from other industries, Mount Barker Medical Clinic trialled a new Concierge model which saw the installation of a free-standing desk inside the clinic's entrance and a warm and friendly staff member to greet people as they walked through the doors.

Mount Barker Medical Clinic's Site Manager Margaret Wheatley says "the trial was very well received and that patients enjoy being warmly greeted by the Concierge". An additional benefit has been that the Concierge is available to assist mobility-challenged patients with accessing the clinic via the underground carpark, steps or ramp. Once inside, patients receive a personal and friendly check in and identification process with little or no waiting time. The Concierge is also able to let people know if their appointment is on time, and invite them to sit and relax in the modern and spacious waiting room.

"Building relationships with our patients is paramount and we find that many of our regular patients place great value on the familiar face and welcoming smile of our Concierge," says Margaret.

After the patient has seen the doctor, the Concierge can make follow-up appointments with ease and answer questions without patients having to wait in line at the reception desk.

The clinic has received many positive comments from patients, with many echoing the team's aspirations to create an experience that values the individual and delivers outstanding customer service to match the high quality medical care they receive from the clinic's doctors. "It goes without saying that the Concierge is here to stay, with Better Medical now looking to implement the model at some of its other clinics across Australia," says Margaret.

Here's what some of our patients have said about Mount Barker Medical Clinic's Concierge experience:
"Much more responsive and personal."
"Friendliness and acceptance go a long way with me feeling comfortable and in the right place."
"So much better than the touch screen you had at the last place – nice personal touch."
"I feel welcome and more relaxed."
"No delays" and "quicker".
"No waiting at the reception desk, which is quite often busy."
"Very unique – very refreshing these days."
Meningococcal B Young Adult Catch-up Program Extension

The State Government's Meningococcal B immunisation catch-up program for young adults 17 to less than 21 years of age (at the commencement of the Program on 1 February 2019) is being extended until Saturday 29 February 2020, due to lower than expected uptake of the vaccine in this age group.

For this age group, two doses of Bexsero® with a minimal interval of 8 weeks between doses is required to be fully immunised. If a young adult receives at least one dose of the vaccine before 29 February 2020, they will still be eligible to receive the second dose for free – even after the deadline.

For more information, visit: sahealth.sa.gov.au/menbprogram
Make a Difference - Be a Part of the Clinical Advisory Council

Are you interested in advising and shaping the work of the Commission on Excellence and Innovation in Health (CEIH)? Become a part of the CEIH Clinical Advisory Council.  
The Council is the peak advisory body for the CEIH and will help develop the vision and purpose as well as provide advice, insight and support to the CEIH on its current and future programs of work.
CEIH are looking for experts in a range of areas including clinical care and research, consumer and community representation, health economics, innovation, health administration, rural health care and Aboriginal and Torres Strait Islander health care. 
Applications close on Wednesday, 4 December 2019.  To find out more or to apply go to 
www.sahealth.sa.gov.au/CEIH
. 
Better Medical - GP Opportunities

Join an innovative and forward thinking group of clinics, which highly values quality care and clinical autonomy with a community focus. 
We have GP opportunities for full or part-time positions.  Modern, fully accredited clinics, DPA and non-DPA.  Well established mixed / private billing.  Opportunities in clinics located in Mt Barker and Strathalbyn with excellent nursing and administrative support.  


For further information and a confidential discussion, please contact Amy Sissman on 08 8391 2055 or 

join@bettermed.com.au

Southern Fleurieu Family Practice - Senior Practice Nurse

The Southern Fleurieu Family Practice is a leading rural GP medical clinic based in Yankalilla, on the beautiful Fleurieu Peninsula, south of Adelaide. We are very excited to announce, due to growth the opportunity for an experienced Senior Practice Nurse to lead our clinical nursing program and team.

Please apply by email to Amanda Jurado, Practice Manager (

pm@sffp.com.au

). For more information please visit our website at

www.sffp.com.au

or telephone (08) 8558 0111. A position description is available on request.
Palliative care resources providing more choice for terminally-ill patients to stay at home

, for more information contact the project team at

caringathome@health.qld.gov.au

or phone 1300 600 007. To order hard copies or to download electronic version of the resources go to

www.caringathomeproject.com.au

.

CarerHelp Website, is a new website to support people in Australia who are caring for a partner, relative or friend living with a terminal illness. The website features evidence based and practical information about symptoms, how to get help on financial/legal issues, downloadable forms and tools and online learning modules. 
| | | |
| --- | --- | --- |
| The Blood Service Mobile Blood Donor Centre will be in Nuriootpa on Monday 2 December to Friday 6 December, in Clare on Wednesday 11 December to Friday 13 December 2019, in Berri on Monday 16 December to Tuesday 17 December, in Port August on Tuesday 17 December to Friday 20 December, Renmark on Wednesday 18 December to Thursday 19 December and in Gawler on Monday 23 December to Tuesday 24 December 2019. | | Managing asthma in spring, for people with asthma, the symptoms of hay fever can create complications. 80% of people with asthma also have hay fever. Managing hay fever and allergy is part of asthma care and health professionals play a key role in supporting people with asthma and hay fever.  |
New eye screening resources, the Australian Indigenous HealthInfoNet, in collaboration with The Fred Hollows Foundation, has launched a series of knowledge exchange tools about eye screening and care for health workers and practitioners working with Aboriginal and Torres Strait Islander people.

Keeping up with vaccinations: What's new, what's available and who to ask for help

, an article has been published by Medicine Today which aims to inform general practitioners about recent changes to immunisation recommendations including what is new, who to ask for help and where to find further information. Full access to the article is now available on the 

Medicine Today website

.
| | | |
| --- | --- | --- |
| Sharing Knowledge About Immunisation eLearning module has been designed to help providers adapt their clinical communication skills to meet the needs of all parents, whether they are ready to vaccinate, have questions, or intend to decline vaccination altogether.  | | Sharing Knowledge About Immunisation website for parents provides a suite of resources and information for parents and carers of babies and young children, designed to support conversations about childhood vaccination.  |
| | | |
| --- | --- | --- |
| Call for Expressions of Interest from Aged Care IT Providers, ELDAC are calling for expressions of interest from Aged Care IT providers to build a dashboard within their own system. Successful applicants will be provided a $20,000 payment. Applications close Friday 6 December 2019. | | National Cancer Screening Register supporting the National Bowel Cancer Screening Program, the National Cancer Screening Register (the National Register) will begin supporting the National Bowel Cancer Screening Program (NBCSP).  |
| | | |
| --- | --- | --- |
| Commonwealth Home Support Programme Booklet now available in 18 languages, the translated booklets are available on the My Aged Care website for reading online, downloading or printing at home. | | General Practice Resources Portal, the new PenCS General Practice Resources Portal is a dedicated site for general practices, featuring booklets, training videos and a quick start guide.  |
Syphilis Update - Port Augusta

Wednesday 4 December 2019, 6.30pm - 9.30pm

 
Putting Your Best Foot Forward; Diabetic foot assessment update for practice nurses - Wallaroo

Monday 2 December 2019, 6.00pm - 8.30pm

Putting Your Best Foot Forward; Diabetic foot assessment update for practice nurses - Jamestown
Monday 9 December 2019, 6.00pm - 8.30pm
Register Here
Skin Cancer Awareness Regional Roadshow - Strathalbyn 

Wednesday 11 December 2019, 10.00am - 11.00am

Skin Cancer Awareness Regional Roadshow - Victor Harbor

Wednesday 11 December 2019, 6.00pm - 7.00pm
Endometriosis: Not just period pain – Berri

Tuesday 10 December 2019, 6.00pm - 8.00pm

Treating patients with severe personality disorder in general practice - Berri

Wednesday 11 December 2019
Mental health tools: putting low intensity stepped care into practice - North Adelaide

Tuesday 3 December 2019, 6.00pm - 9.00pm

Wound Closure Workshop - Royston Park

Monday 16 December to Tuesday 17 December 2019
International Certificate of Dermatoscopy and Skin Cancer - Melbourne

Saturday 25 January 2020 to Sunday 26 January 2020

2020 Australian Pain Society 40th Annual Scientific Meeting - Hobart

Sunday 5 April 2020 to Wednesday 8 April 2020
AICG Patient Safety & Quality Care Symposium - Victoria

'Connecting Clinicians' is the central theme of the 2020 Symposium.


7th Rural and Remote Health Scientific Symposium - Alice Springs

Monday 25 May to Tuesday 26 May 2020
Suicide Prevention Webinar What next after a patient suicide attempt?

Tuesday 3 December 2019, 7.00pm – 8.00pm (ACST)

Practice Standards – Where are we at? - Webinar

Wednesday 11 December 2019, 1.00pm - 2.00pm (ACST)
RACGP eHealth Webinar Series

Using personal mobile devices for clinical photos in general practice
Tuesday 3 December 2019, 1.00pm - 2.00pm (AEDT)

Thursday 5 December 2019, 8.30pm - 9.30pm (AEDT)

e-Mental Health in Practice

e-mental health in practice is a suite of online training modules, webinars and e-resources designed to introduce health professionals to online programs and tools, and to demonstrate how e-mental health technologies can be integrated into primary care. 

Register Here
How to maximise the MBS for nurse clinics in general practice Webinar

Tuesday 3 December 2019, 12.30pm - 1.30pm (AEDT)

Eye Emergencies: the red eye and what not to miss - Webinar

Tuesday 10 December 2019, 7.00pm - 8.00pm (ACST)
Online Short Courses

Continuing professional development online courses tailored for general practitioners, specialists, nurses, physicians and medical students with learning inter-activities to enrich study experiences.

What is Medical Cannabis
This education provides background information for doctors who are interested in understanding medicinal cannabis products for particular conditions and to ensure that patients have accurate information to avoid or minimise the risks that can arise when using medicinal cannabis. Register Here
Beckwith Park, 30 Tanunda Road, Nuriootpa SA 5355

PO Box 868, Nuriootpa SA 5355

T  08 8565 8900    F  08 8311 1723
SA Rural Health Network trading as Country SA PHN.
Country SA PHN gratefully acknowledge the financial and other
support from the Australian Government Department of Health.
Click here
 to update your subscription preferences.